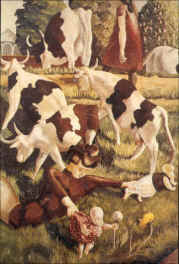 For one reason and another it has been a few days since I've managed to get out on the bike, but I grabbed an hour this afternoon, in a gap between teleconferences, and I rattled round my favourite route: across Winter Hill, down into Cookham, then back along the river bank and home through the outskirts of Maidenhead.
Away from parents collecting their children from school there was very little traffic on the roads, and apart from quite a strong wind, I couldn't have asked for better weather. The view from Winter Hill in the afternoon sun was particularly lovely.

Unfortunately I didn't have a camera with me, so instead, as compensation, here is Stanley Spencer's boisterous painting of Cows on Cookham Moor, which is in the Ashmolean museum in Oxford. Spencer was  born and lived in Cookham. The local gallery re-opened recently, and I really ought to try and fit in another visit. But for today an hour in the fresh air, the sight of hawks circling over Winter Hill, and real cows grazing on Widbrook Common will do me very well.